Events
Metropolitan Club: Urban Design Challenge 1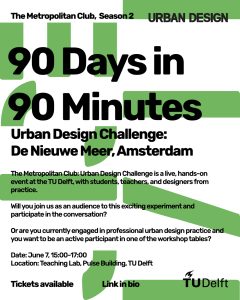 Registration for this event is closed.
Date: Tuesday 7th June
Location: Teaching Lab at Pulse building, TU Delft
Doors open: 14.30
Program: 15.00-17.00
Drinks: 17.00-18.00
The Metropolitan Club: Urban Design Challenge was a free event at the TU Delft, with students, teachers, and designers from practice
Invited participants were challenged to sketch an integrated urban design in 90 minutes instead of 90 days, by means on exploring with a variety of urban design methods. Not with competing groups, but as one big collaborative team. The goal was not to reach a perfectly defined proposal, but to reflect on and learn from participating in an integral and interdisciplinary design process.
Case study: De Nieuwe Meer, Amsterdam, between the water and the A4.
Related content